To make sure that your new or renovated bathroom is painted right, you must consider the bathroom color and paint ideas. You can have bright and lively colors or opt for dark ones that can produce a warm and welcoming feel; you have a lot of colors to choose from but the following stand out from the rest. Here are some selections from Seaside Cabinetry and Design.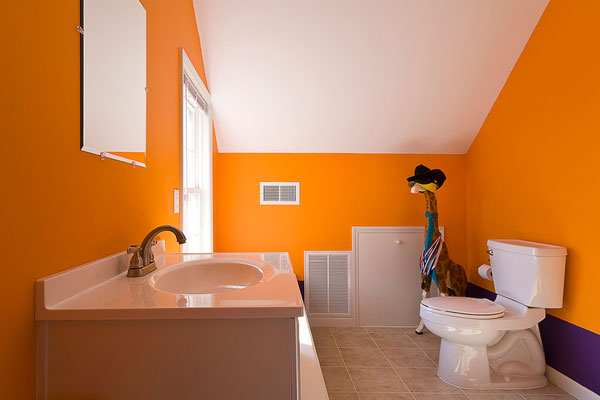 Grey Neutrals
Warm gray colors are perfect paint schemes for bathrooms for they convey that subtle and timeless feel that transform any space, may it be modern or traditional. A matte paint finish can add to the beauty as compared to the old-style high-gloss walls, which seems to be too utilitarian nowadays.
Cool Tones
Painting your bathroom light blue can transform it into a cool and calming retreat. It is perfect for a softer atmosphere and is considered a relaxing and distinctive color for a bathroom. You can try using Bit of Heaven PPG1156-2 color if you want that beautiful blue paint color. While Atrium White PPG1020-1 is great as a trim color and for an accent color, you can try Geyser PPG1138-2 and Delicate White PPG1001-1.
Warm Tones
However, if you are into warmer colors, try for warm gold or pale coral. Going for a yellow color with green undertone is the least matching to many skin tones, so instead use it in other rooms in your house.
Classic Off-White Colors
Combining delicate off-white pain in traditional bathrooms is a great way to convey a gentle and tantalizing space. Mixing Vanilla Milkshake PPG1015-1 and Sugar Soap PPG1084-1 are perfect colors for bathrooms. For that clean trim, go for Delicate White PPG1001-1 and for accents and decorations that produce contrast use Dark Granite PPG1005-7.
When deciding on bathroom styles, there are certainly defined color schemes that are a lot more common than others. For instance, old-style bathrooms have colors that were commonly used during the period where the style appeared. Colonial bathroom normally has deep blues, greens, and reds since these colors are commonly used and available in the American colonial times. On the other hand, contemporary and modern bathrooms sometimes use monochromatic colors, in neutral colors such as grays, blacks, and whites. These modernized styles can sometimes use bright and saturated colors such as blue, green, orange, and red, either for primary focus or accents.
When choosing the right paint colors for your new and modernized bathroom, you will have a lot of choices. Home improvement and paint stores are great places to look for motivation, and most of them will be happy to provide you with samples of various colors and types of paints for you to try out. The interior paint that can be used for your bathroom is diverse when it comes to price, quality, and range, so it's ideal to do some research on various lines before deciding on the right paint for your bathroom.
If you are looking for bathroom cabinets in Victoria BC, be sure to contact Seaside Cabinetry and Design.