When putting a fence around your home it can serve different purposes. It can serve as a privacy shield from trespassers and from neighbors seeing into your yard. It can also add aesthetic value to the exterior of your home. Fences can be used as part of your landscape design too. When choosing the type of fencing you are going to use in your yard, you first need to decide what purpose the fencing is going to serve. If you wanted a privacy fence, you would not use a chain length fence, but would use a wooden fence instead. You also need to look at your budget, as some fencing can be very expensive, especially if there is a large area to fence. You also need to measure the area to be fenced along with how tall you want it to be. You need to look at the general weather in your area as some fencing stands up to certain weather conditions better than other fencing.
These fences come in many different types including wood, bamboo, Metal, Brick, Glass and vinyl. Each of these options have different attributes setting them apart from each other. There is something for everyone with these types of garden fencing.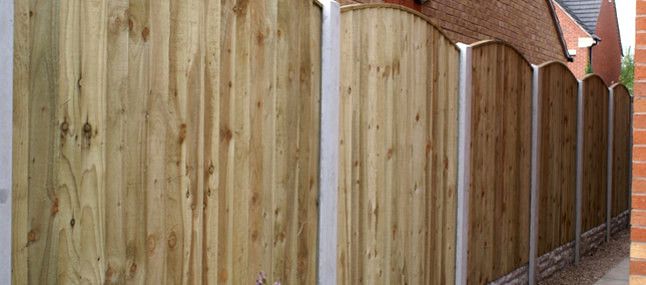 1. Wooden fences – are an option for people looking for a country look. One type of wooden fence is split rail, which will give your garden a rustic look. Wood can be a good option for people looking for an easy fence to install. They can be found ready-made at most lumberyards and home stores. These ready-made fences can usually be put together in a single day.
2. Bamboo fencing – can be used to bring an exotic look to your garden. It is also an option for those who are environmentally friendly. Bamboo is actually grass instead of wood. Therefore, the supply replenishes itself much more quickly. There are many different types of bamboo decorative fences. Most home improvement stores will carry the fences and everything needed to put them up and maintain them. Because it's a natural product, bamboo can sometimes require extra care. There are a few different treatments for bamboo fencing that can be used to prolong its beauty. Even with this extra care, bamboo fencing is a great option for a beautiful, environmentally friendly fence.
3. Vinyl fencing – is an option for people looking for low maintenance decorative garden fences. Vinyl will not need any special chemicals or treatments for its upkeep. Also, vinyl is able to withstand harsh environmental elements making it a great option for people who live in an area with harsh seasons. Vinyl fencing comes in many different looks. If you are looking for the look of a wood fence, but don't want to deal with the necessary upkeep, vinyl fencing that imitates the look of wood could be the answer.
4. Brick walls – a low brick wall is a common choice for the front of properties – it's a solid and traditional option, which is now back in style for modern homes, often enhanced with pillars, wrought iron or timber. However, building a high brick wall around an entire property is both expensive and rather forbidding and is best left to celebrities.
5. Glass fencing – If you want to preserve a view, or go for a modern, fence-free look then glass fencing is for you. Popular around pools, it gives a modern, stylish look.
6. Metal fences – Steel and aluminium fences have become very popular for their ease and convenience they are relatively quick to install, lightweight and durable and if you choose solid panels, they offer considerable privacy. Metal fencing is available in a range of colours – choose one that matches the colour of your house or woodwork, go for drama with contrast or choose a timeless neutral shade.
If you're looking for Garden Fencing supplies in Hampshire, Godwin Fencing Hampshire is a leading provider in garden fencing supplies, fence panels & contractors at prices you can afford. Godwin Fencing Hampshire uses the highest quality materials for all supplies and projects. There specialist service will go above and beyond your expectations.