Home is a place where families lives together and share their day to day experiences of life and bond. Today, increasing number of people prefer to work from home as they can manage home and professional life both. There are many opportunities where an individual can do business from home with the help of technology and make small work space within the house. But it is important to note that work should not be mixed with domestic life for which a proper privacy, comfort and space is required. Home office furniture helps in creating office environment that yields to more productive work from the worker.
Since the office space in homes is usually less and compact you must measure the space before buying home office furniture. It is ideal if modular furniture is bought as they do not take much space and still solve the purpose. This enables for smoother functioning of the office. Though there are various designs and sizes available in the market and some people prefer to buy big furniture, but when buying home office furniture one must stick to modular furnishings.
When transforming a home space into an office it should be considered that office should look different from the rest of the house and has a distinction factor. This way the work will be done seriously and the client will be impressed with the way you manage your both worlds affectively. Any kind of furniture comes with an expensive cost and nobody wants to spend their hard earned money carelessly. Before buying home office furniture one must do a quick survey by visiting furnishing shops and comparing their cost. If the cost margins vary than quality should be compared and then the furniture should be bought. Another way is to buy customized furniture where you and the carpenter design your own furniture which is creative and affordable. But customized furniture takes time to complete and is burdensome.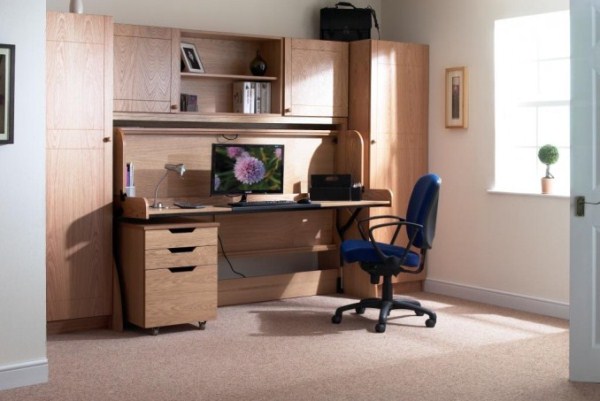 You should never compromise on the quality of furniture and should buy good quality product that promises longevity and durability. Comfort is another factor to take into consideration when buying home office furniture because when you work in comfortable surroundings you can work for long hours without feeling tired. In home offices the use of chairs is less so you must buy a set of sofas kept a little away from your space of work. The chairs should be alike and should be kept beside a wooden table. The walls should be painted with light colors as such colors are soothing and the room looks spacious. The walls then must be decorated with some paintings and wall hangings.
In the present world work from home has become a popular concept where individuals are making profits and can work dedicatedly from their homes. Anyone can create a small office space in their homes by using office interior designer. The furniture designer and makers are trying to make best durable furniture design for home offices as this trend is on a rise.