During modern era of communication and information technologies, the need for Data Cable Installation Service has become imperative for every business or social identity. The fast paced technological revolution has changed our lives significantly over the couple of decades. If you have a decent setup involving telephone and IT networks then you need an expert Data Cable Installation Company to install, manage and support it. However, structured cabling stands for something more than just physical cabling.  Structured cabling includes a network involving cables, switches, routers, wireless devices, hubs and also security and access system. Let's understand various steps involved in data cable installation process.
Types of Data Cables
Cat5 or Cat5e Cabling: This type of cabling involves use of copper wire cabling which transmits data and voice. Cat5 and much advanced Cat5e are un-shielded cables and hence these are prone to interference 'noise' from other devices.
Cat6 or Cat6a Cabling: This cable is superior to Cat5 and helps in reducing the noise significantly. Cat6 cable has a curtailed maximum length as compared to Cat5 cables whereas the improved Cat6a cable can be used for similar standard lengths.
Fibre Optic Cabling: These plastic fibre cables can transfer information through beams of light and hence they behave faster than traditional copper wire cables. The fibre optic cabling is secured from noise and interference. Earlier, these cables used to connect office networks to the local internet exchanges outdoors. However, due to reduction in their costs, these are becoming more popular within office premises to achieve superior fidelity and speed they inherit.
Data Cable Installation Process
The data cable installation company will initially enquire about your current and future networking needs. This would include the number and type of devices, the type of data to be handled, security needs, use of wireless and mobile devices and prospective business and network expansion plans.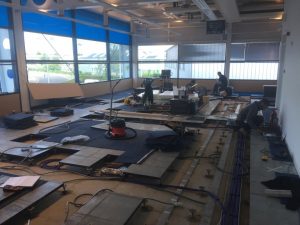 Cabling within an office premise involves structured cabling. There are two types of cabling in an office building, known as, 'vertical' cabling and 'horizontal' cabling. On one hand, vertical cabling connects different floors, whereas, horizontal cabling connects devices located on the same floor.
The cables end up at a 'patch panel' and 'network switch', where the computer networks will then be linked to the outside world via 'public internet'. The devices are plugged into a socket for networking; these sockets are called 'network points'.
Data Cabling Installation Companies
Generally, the companies who offer data cabling installation services are full-fledged IT service companies. These companies offer complete package involving host of network related services. These companies offer the services including consultation, network designing and installing and maintaining your network. Often a company with in-house IT department will hire a Data Cable installation Company just to place cables, install termination points and patch panels. However, a small business entity usually outsources the complete network installation and IT support contract.
Ask before Choosing a Data Cable Installation Company
Below are given some questions that must be answered before considering a data cable installation company:
Does the data cable installation service provider extends on-site and/or remote support?
Does it have experience with similar businesses or industries?
Can it synchronize devices, phone systems, hubs, etc., or if it's just a cable installer?
Can it handle multiple locations?
Can it deliver initial and ongoing testing for network performance?
Will it provide continuous support and maintenance to the network?
Each structured cabling project is unique in itself; therefore, you ought to be very careful while selecting the most feasible data cable installation service provider company for your setup.