If you are looking forward to selecting some new tiles for your kitchen and  don't want to compromise on quality then there are plenty of great choices of natural stone or porcelain that could fit the bill. But the choice is not always easy because you will need to weigh up cost, beauty and durability, especially important in a kitchen. Some natural stone tiles are durable, but need regular maintenance, but then that relatively small task is offset by their unique look, texture and feel.
One of the things that is so special about natural stone flooring and tiles is their individual characteristics and distinctive colours. Sure, natural stone effect porcelain tiles can look really good too, and they are certainly hard-wearing and easy to maintain, but the look, particularly across a wide expanse of floor, cannot match natural stone because each porcelain tile looks too similar to each other.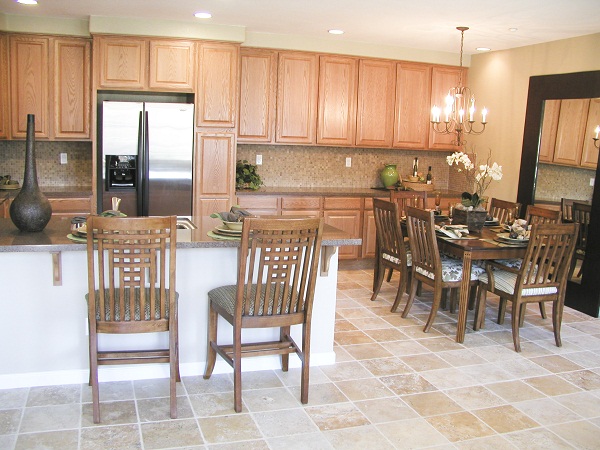 An individual porcelain tile may have realistic texture and variation in colour and pattern, but when they are all put together, there is too much similarity between individual floor tiles to truly match the beauty of natural stone. Even those porcelain tiles that come in batches with a range of variations between individual tiles still have repetition of tiles. This may not be obvious in the tile showroom, but it will be in a full sized room.
So there really is no substitute for natural stone and if, like me, you are already convinced of this then all that remains is to make your choice – will it be:
Travertine
Limestone
Granite
Marble
Slate
You choice of tile size will affect your choice of material, particularly if you want to go for large tiles, which won't be available in every material. But if you are happy with relatively small tiles (or perhaps what we once considered a standard size such as 40 x 40cm) then your choice is much wider. The benefit of smaller sizes is that they can be more easily fitted around awkward shaped rooms or features. If you do not have a large, regular shaped room, then  the effect large tiles create would be lost by all the cuts that would have to be made. Maybe you'll have to leave those extra-large tiles until you move into that palatial new home you are dreaming of.
A favourite type of natural stone tiles for the kitchen is marble – it is hard-wearing, providing it is maintained regularly and treated carefully, as well as beautiful so here are a few of the most common types available:
Carrara Marble:
This is one of the finest marbles in the world from the Italian region of Carrara. It typically has a white background with different levels and colour of veining depending on the quality and, naturally, the cost. The whiter the tile, the better the quality, although all marble is beautiful and different colours can work out more affordable.
Marquina Marble:
A rare marble from Italy, which has a black background and white veins; it's rarity means it is very expensive but there are many marbles from lesser known regions in South America, China and Turkey that are much more affordable and can offer a black background if that is what you are looking for.
Marfil Marble:
A well-known marble that comes from quarries in Spain and can also have a range of colour variations and veining.  Tiles with minimal variation are the highest quality, but even the least expensive types are very attractive.
There is a huge range of marble tiles from across the globe in a variety of colours, patterns,  sizes and prices so there is sure to be something for everyone sold on the distinctive look of natural stone floor tiles. Just don't forget to take professional advice on laying and sealing them.