Keeping your home styled in the latest fashions does not have to be expensive or even time consuming. Most successful home stylist begin with a generic slate then add and take away as the seasons progress. For example, the farmhouse wall coloring should be a deep warm earth tone. Then start your layers.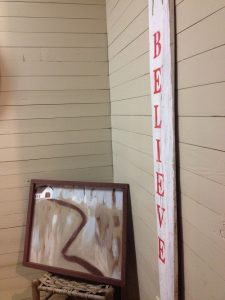 Layer one is a shelf. Preferably you can have a shelf made from thick wood. There is no need to get fancy and have turnings or etchings. For a primitive or country farmhouse, simplicity is better. Select how you will hang the shelf. Galvanized piping add a rustic feel but the floating shelf designs are more versatile should you ever decide to update to a modern style. Piping and other visible shelf hangers add texture and depth while the floating shelves give cleaner lines. The choice really is a matter of preference.
The next layer is a well placed picture hanger. Place the hanger about eight inches above the shelf. If you have multiple shelves hanging above each other, place the hanger right under the middle and/or top shelf. Remember the farmhouse look is best styled as if the items were placed in the room over time. Place large baskets near seating to hold faux seasonal floral arrangements.
Next, add a few elements to the shelf. Select items that are highly textured and very unique. Farmhouses and country homes are quaint because the items inside them are unusual. Consider shelf sitters, soft sculptures, and aged pottery. Taller or wider items should go toward the back.
Add a layer in front and between the larger shelf decor. This is the focal layer. These items should be of fabric and ceramic. A few items from your favorite hobby should also be placed at this layer. The focal layer is always seasonal and adapted for the holiday. Decorating for a big holiday such as Christmas requires you to remove most of these focal items. However, St. Patrick's Day and Valentine's Day decorations will simply tuck into the existing focal items.
Now, add seasonal signage to the picture hanger you placed above the shelf just to tie your vignette together. Toss a thick plaid blanket in one of your baskets in autumn and a replace it with a light throw in spring.
Making simple additions, subtractions and rearrangements of items at the focal layer avess the homeowner time and money. Play along with Instagram giveaways to win focal level items for your home decor. PaintedFolkArt is offering a trio of home decorator focals: Farmhouse Cat, Reclaimed Oak Clock, and Valentine Heart Ornies.
The main secret to having a well styled and up-to-date home is just getting started. Start small if you have decor phobia. Soon you will gain in confidence and be adding pictures to instagram of your freshly styled home.
Jennifer Terry is a folk artist specializing in focal level home decor. You can find her upcycled, recycled and reclaimed folk art on instagram under the name PaintedFolkArt.