When it comes to office design, often start-up companies can have the freshest and most innovative spaces. Great office designers such as Oktra UK can help choose an office design which is just right for your office. In the meantime, here is a list of some of the most awesome office designs in today's start up world.
Squarespace
Squarespace is a content managing company which builds websites and blogs and performs hosting services. You can create and maintain your own blog or website through Squarespace. Since their launch in 2004, the company has millions of customers, and now employs over 440 people. When it came to the design of their office space, Squarespace decided to keep it simple. Using a black and white design, the space features glass walls which are covered with sketches and code…all the way up to the 16-foot ceilings. There is also a library for when the workers need to take a break.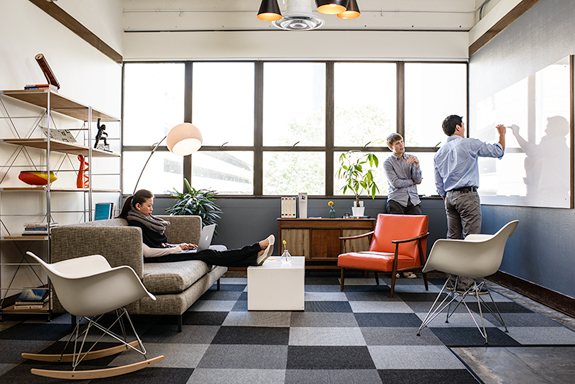 Twilio
Twilio is based in San Francisco and works in cloud communications. Software developers can use Twilio's web service APIs to make and receive phone calls as well as send texts and receive them. Over half a billion people have used Twilio's services, and they employ over 150 people. Their office space is forty thousand square feet covered in murals. The furnishing includes twenty-five couches, a huge kitchen, and a wet bar. There are also over thirty conference rooms at Twilio.
Foursquare
Foursquare is a mobile app that users can utilise to find restaurants, gyms, gas stations, grocery stores, and other businesses and locations in their area. The user adds input such as what they like about locations when they are at locations, and such and this information is exchanged with other users. The Foursquare office is located in a 10th-floor loft space and has an airy feel. Graphics from the company are displayed throughout the office space and employee desks are located in a bullpen that expands down the length of the loft. Large windows give Foursquare's workspace plenty of natural lighting, and meeting rooms are each decorated in their own way. There are glass walls in the meeting rooms, and Idea Paint is provided to encourage brainstorming.
Chartbeat
Chartbeat started out as Betaworks, a seed-stage incubator as well as venture capital company. It is now a web analytics company that works in real time to help give insights to news blogs and websites that help determine what will be published. Their office space was built in an old yoga studio, which gave them lots of space. The entire team was invited to input their ideas into the design, including the Human Resources department, admins, and team members, as well as a design team. The space is very unique since each employee was allowed to choose their own furnishings and design their own space. Most of the time, however, these employees are up pacing the floor, bouncing ideas off of each other, and literally writing on the walls. This is not only allowed, it is encouraged since many of the walls and windows are made of glass. Other walls are made of metal and magnet boards so that product launches, user feedback, and meetings can be tracked on them. Data literally surrounds the Chartbeat employee all of the time.