Ask a women what is the biggest confusion in everyday life and you thought you would get answers like career, partner, what places to visit…!!! Nope. The biggest confusion which exists in a woman's life till date since time immemorial is what to wear? Every morning starts with this dilemma. Whether it is for office, function, party or a hangout with friend or just going to a nearby shop to buy milk, this is constantly running in the minds of these beautiful beings!
As and when we grew older, dresses have become more of a fashion statement than a necessity to just cover ourselves. Today people want to show off their designer labels apparel and who is the wearing the latest in vogue. Thanks to the overtly fashion conscious people, the fashion industry is earning in billions and is set to thrive over the years to come. Brands are constantly making effort to revamp and innovate new styles to lure in the maximum customers. They are hiring the best talent in the industry and getting designs from all over the world to get you the most quintessential collection and we are all spoilt for choice today. Increasing brands leads to ever evolving categories and as options expand under each category, our everyday confusion doubles!!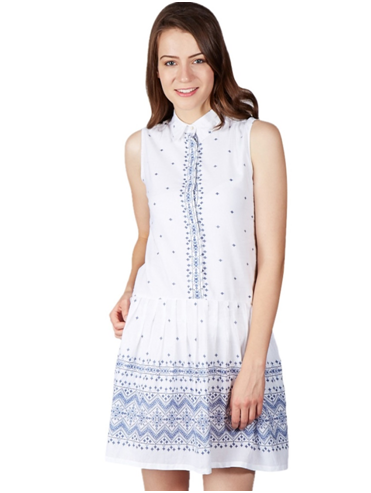 The important question is- do you dress to please others and hunt for compliments or for yourself so that you feel good?? Lost in the rat race we always want to be and look the best, but is it taking us anywhere? Have reverence for your own spirit. God has made you immensely beautiful, so dress to honour that, dress for yourself!! When you do it for yourself, you will be amazed to see the transformation within and a whole lot of difference in your perspective. You will be a new you. You don't need anyone to validate you. You will emerge as more confident you cutting the bars of comparison which only leads one to doom.
Right from one piece dress,jump-suits, jeans & tee, trousers & shirts, kurta & legging, skirt, saree-all show different shades of a woman. She can fit into any role and dress perfectly for any occasion.The 21st century woman is fearless, carefree and is enthusiastic to explore new avenues in life. So is the case with her dressing. Overcoming cultural & societal barriers she is ready to try on new dress styles & looks- she should be satisfies & happy; that is all that matters!! Given the time crunch these days the easiest way to get stuff from the current fashion trends is to buy dress online. American Swan presents a treasure trove of collection of women dresses to suit all her moods and add a classic charm to her persona. Team up the quintessential dresses with woman casual shoes and be ready to rock this festive season. Experience the joy of dressing in a spectrum of colours, weaves accentuated with the classy American style!!