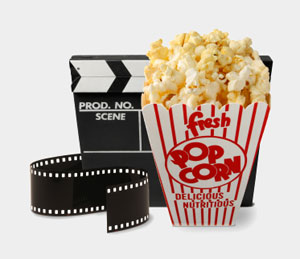 Movie nights at home have become more and more common these days. With the price to go out to a movie theater increasing year after year, it is time to think about stepping up the game when it comes to viewing films at home. Many people are starting to set up fancy home theaters within their homes to avoid the inevitable cost of an outing to the movie theater. However, a movie night experience can be done in a cost effective way.
Gather together some family or friends and you can recreate the movie theater experience without the price. More than likely your home is already equipped with the main ingredient, the movies! You choose from your home movie collection, find something on cable, or through the internet. It has never been easier than it is today to click here and have instant viewing. There are three tips to ensure a night just like the theater.
1.     Pick your movie
When the movie is in your home, any film is fair game. You can watch any movie at any time desired. Don't limit yourself to just one movie either. With rentals costs so low or just grabbing a movie out of your collection, you can create a whole night of viewing pleasure. If you are not satisfied with the movie, you won't feel like you have wasted money on a film.
 2.     Turn your living room into a theater
Set the tone for the film experience. Make sure there are a lot of comfy seating arrangements. Bring out extra pillows and blankets to place on the floor and couch. Make sure the lighting is off or dimmed. The main difference between a home and a theater is chattiness. When you are at home you are more willing to talk with your family or friends or use electronics. Make a rule to turn off all phones and put them away and to save talking for before or after the film. If there is a surround sound system in the home, the film experience will be enhanced and create a similar feeling to being in a theater itself.
 3.     Snacks, Snacks, Snacks
What is a movie without popcorn? Have bunch of it in stock. Also, you cannot forget the beverages. Whatever drink preference you have should be in stock. Bring candies that are sold at the concession stands at the theater. Turn on your slow cooker, melt some cheese, and have a big bag of tortilla chips ready and make your own nachos. If you are having friends over to watch movies have them bring some of these items. This will cut the cost down. Ice cream can also be found at some concession stands, so if you are looking for something cold and sweet, make sure to have some ice cream treats in the freezer.
Whether you are having a move night party or just a night in with the family, these are the  main ingredients for a successful movie night at home. While an outing to the theater can be fun, so can a night at home and it will cost you next to nothing. There are many ways to spice up a home viewing experience but if you want it just like the theater, these three tips are all you need.
Image Source: http://coralcasinoclub.com