Are you a superstar who is not getting the recognition she deserves? Do you want to be up there with Kimmy K, Lindsey L, Rita O and all the other starlets getting more attention than you?
Well hey girl, you can absolutely grab some of that A list action. First off you've got to start dressing like a star. Have a look at these basics of celebrity style and start working on how you are going to start rocking that look…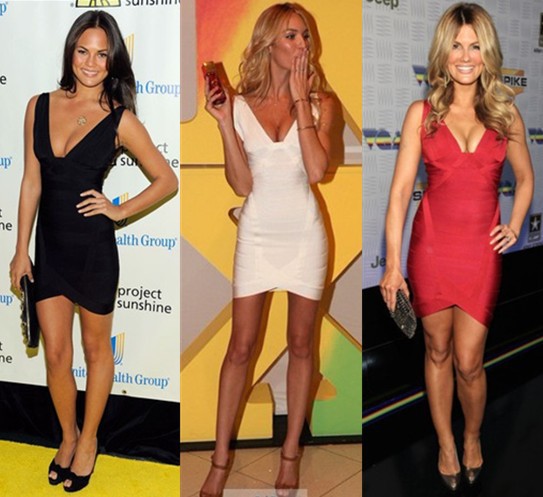 The Dress
The number one favourite, go-to dresses for celebrities with something to celebrate are bandage dresses. If you've got the body, beauty and bravery, bandage dresses help you get noticed in a hurry. This simple flattering style comes in a variety of lengths, colour ways and fabrics, so it's quite possible to have a different one for every day of the year if you are so inclined. For hourglass silhouettes, willowy elegant ladies and all those wonderful shapes and sizes in between, the bandage dress packages you in such a way, you'll feel like a star 24/7.
Shades Lover
You've got to have a pair of paparazzi-blanking sunglasses glued to your face at all times on planet celebrity. Mirrored styles work well because they are so impenetrable, alternatively try some glamor girl Jackie O whoppers, wrap around styles, Cat's Eye Ray Bans or go into deep cover with geeky-nerdy models. All of these shades are looking hot right now, so keep them guessing with a pair that throws them a loop.
Shoe Sure
In the gossip rags and online rumour sites they always latch on to celebrities choice of footwear. I don't know why they do this – perhaps they can read their souls (soles?) this way. Some starlet or himbo may be innocently rocking a pair of flats, thigh highs, flip flops, biker boots, kitten heels or pumps, and we'll get the low down on the label, size, colour, arch supports and more. It's the type of scrutiny that nobody wants or needs, but when you are a celebrity, it's what you get. So, the lesson to take from this footwear-fixation is 'Focus on the details and get them right, because when they are wrong – everybody gets to know about it.' Besides, being well turned out and groomed is a positive lifestyle choice.
Beauty Bonus
All celebrities have a trusted beautician they go to for spa treatments, skin care procedures and all those special little tricks they have in their vanity cases. Thin lips, frown-lines, crows feet, sparse eyebrows, bumpy complexion, droopy lids – whatever your surface shortcomings (and let's face it, we all have them), a friendly and skilled beautician can magic them all away. You don't think celebrities achieve that flawless look without a little extra help, do you? Listen up girlfriend, they cheat all the way – which means you can do exactly the same without an iota of shame.
Bag a Biggie
You simply have to have a large handbag to look like a true celebrity. Don't go mortgaging your house and buying one of those ridiculously expensive designer models, you can find similar styles online that won't bankrupt you but give enough of the right flavour for passers by to wonder 'Who's that girl?' For casual strolls to the shops, grabbing a latte or walking your chihuahua in the park, expensively scruffy skinny jeans teamed with a large handbag is the trademark ensemble.
Gym Girl
Invest in some sexy work out gear that makes you look fantastic even when you are sweaty and exhausted from the gym. Clingy, hot colours in slinky styles that flatter and support give the best results. And even if you never go to the gym (ever!), wearing work-out kit fits the celebrity profile perfectly. Work that body!
Behaviour Briefing
Now you've got to get yourself an attitude. You need to be confident, smile a lot, but also cultivate an air of mystery. Invest in a few large, wide brimmed hats – not only are they elegance in the extreme, they will obscure your features in a tantalising way. Large scarves, capes and shawls are also effective garments to ramp up your mystery rating. If you look exotic and a little hard to work out, this will pull people into your orbit. Think about the celebrities that hold their cards closest to their chests – they are the ones who fascinate us most. Far more than the self-regarding, reality show attention seekers whose only claim to fame is being famous.
Help yourself to these seven secrets to celebrity success, start working on this complete package and introduce yourself to the world as the star you are. Look the part, play the part and make a start on your celebrity dream today…