Although wearing basics is easy, cool, and comfortable, you often end up sacrificing style for t-shirt and jeans. The solution is simple: elevate and adorn your basic outfits with some cute accessories. If you're looking for a way to feel comfortable while looking trendy, read on to explore how to elevate your outfit with these accessorizing tips.
The Dress
Dresses and flats are a notable part of every woman's professional wardrobe. Whether your dress is black, gray, or navy, wearing it with basic pumps or flats can be pretty boring. To elevate this tired look, you'll only need four things: a belt, a scarf, colorful shoes, and statement jewelry.
When you put a thin belt around your waist, it's instantly slimming and breaks up the monotony of a single, basic color. Adding a lightweight scarf also allows you to experiment with dimensions without feeling too bulky. Meanwhile, finishing this look involves trading in black shoes for a colorful pair of boots—such as cute suede boots from The Pink Lily Boutique—and embellishing with a gold watch, necklace, or a chunky bracelet to  complete the outfit with a hint of glamour.
The Denim Jeans
Wearing a simple t-shirt with denim jeans and tennis shoes is a common errand-running outfit. Spice yours up with basic accessories: a knot, some cute flats, and a long necklace. You'll still be comfortable enough to stay on your feet all day, but you won't definitely won't be underdressed!
Wearing patterned flats instead of tennis shoes immediately transforms your active wear to runway apparel. Since combining jeans with a tee is basic, you can choose between leopard, stripe, or floral print shoes. Adding a knot on one side of your tee also elevates your look right away without adding anything excessive to your outfit. A statement necklace can also help you to match your pieces and create a unified, cohesive look.
The Capris
Capris are what you wear for picnics and family events, and often they're a plain khaki color. Once you add a quality basic shirt from District Clothing, you suddenly look like someone with a high sense of style. To keep elevating this casually fashionable look, add a patterned belt, tuck in your shirt, and toss your hair!
A patterned belt at your hips is emphasized with a tucked in shirt, and it also shows off your curves! When you embellish your outfit with a few accessories, you can take a boring ensemble and make it pop with distinct styles.
The Skirt
A patterned skirt is always a fun idea. However, if it's a bright design, you'll want to pair it with a plain white top brings down the ensemble. To prevent looking drab, add a few layered necklaces and a lightweight jacket.
When you have a plain shirt—especially a white tee—it allows you to layer a couple of colorful necklaces. Add an interesting jacket with cuffs, ties, or lapels to create a visually appealing juxtaposition between the feminine skirt and the masculine jacket.
The Button Up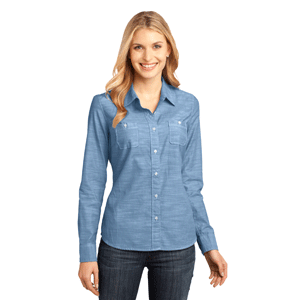 A button up shirt is a common choice for slightly formal occasions, but when paired with skinny jeans or slacks, it needs to be elevated. With this style shirt, you can pull up your hair, add earrings, and accessorize with a colorful bag.
Since hair often gets caught around and underneath the collar, efficiently refine your style with a topknot. Pulled up hair also presents an opportunity to showcase extravagant earrings, especially if it's your statement piece. Finish it up with a colorful bag to starkly contrast your shirt.
The Simplest Tips
Elevating your outfit is often as easy as fixing your hair, changing your shoes, and accessorizing. In addition to these fashion tips, make sure that your basics look crisp and clean—nothing looks duller than a wrinkled shirt and dirty jeans. Try one of these tips today and add a new flair to your wardrobe!