Sri Lanka is a small island country and till the year 1972 it was known to people as Ceylon.lts maritime borders are shared with India and Maldives. This country is known for its Buddhist heritages and Buddhist writings first, also contains a lot of tropical forests. Sri Jayewardenepura kotte at present is the capital of Sri Lanka which is the situated in the city Colombo. Now let's look at some of the amazing places in Sri Lanka one by one in detail.
1) Yala National Park:
a) Yala national park is located near to the city Hambontota.Park has five block in which two of them are open to public and parks adjoining to these blocks are also open.
b) Each block is given an individual name like Ruhuna national park and Kumana national park. This national park is about 190 miles i.e. 300 kilometers from Colombo.ln the year 1900 Yala national park was considered to be a wildlife sanctuary and in 1938 it became a national park.
c) Many wildlife animals like Sri Lanka elephants, leopards and aquatic birds exist here and the country is taking every precaution to protect these endangered species.
2) Dambulla Cave Temple:
a) Dambulla cave temple is also known as Dambulla golden temple to the people of Sri Lanka.lt is located in the heart of Sri Lanka and is said to be 148 kilometers from Colombo and 72 kilometers from Kandy.
b) Around eighty documented caves exist in and around the Dambulla cave temple. This cave temple has many statues of Buddha and paintings as well depicting the life of Buddha.
c) As mentioned in the above line there are 153 Buddha statues, 4 statues of Kings who ruled Sri Lanka and 3 statues of gods. Later statues include Hindu gods which are Lord Vishnu and Ganesh.
3) Sigiriya Rock Fortress: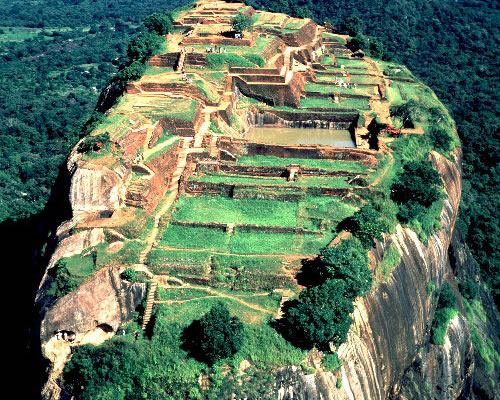 a) Sigiriya is an ancient palace located in the central Mat ale district of Dambulla in the central province of Sri Lanka.This site is dominated by as huge rock which is 200 meters high and has a great historical and archaeological importance.
b) lt is also one of the world heritage sites in the world. On this rock a palace was built by king Kasyapa in 477-495 CE was selected as a capital in his time. He also built a gateway in the form of Lion on a small plateau of this huge rock.
c) After the kings death the royal palace and the capitol was closed and was used as a Buddhist monastery till the 14 century.
4) Kandy Lake:
a) Kandy lake was built by the king Sri Vikrama Raja Sinha who ruled Sri Lanka the year 1807 which is just nearby to the temple of tooth. As years passed by the lakes size got reduced and fishing was banned in this lake.
b) A small island in the center of the lake is said to be used for bathing by the king's heim and also had a secret tunnel to the palace as said by the local people.
5) Bentota Turtle Sanctuary:
a) The Bentota turtle sanctuary is place in Bentota in Galle district. Since the 2004 tsunami incident the country lost many turtles and then they got the idea of preserving turtles which are on the list of endangered species.
b) There are many turtle sanctuaries nearby and you can also volunteer these sanctuaries to improve their facilities and preserving them for future. This place is a must visit for those who are animal lovers. So in order to visit these beautiful places you need to have Srilanka visa for your whole family members. So what are you waiting for board the plane which takes you to Sri Lanka and have a wonderful experience visiting these amazing places.