India is long known for its excellence in software sectors. Yet the hardware business still awaits. In recent years some young startups have shown great signs of growth in the electronics sector.
The concept of drone became useful when the National Disaster Associations or the Military found it beneficent for their own need.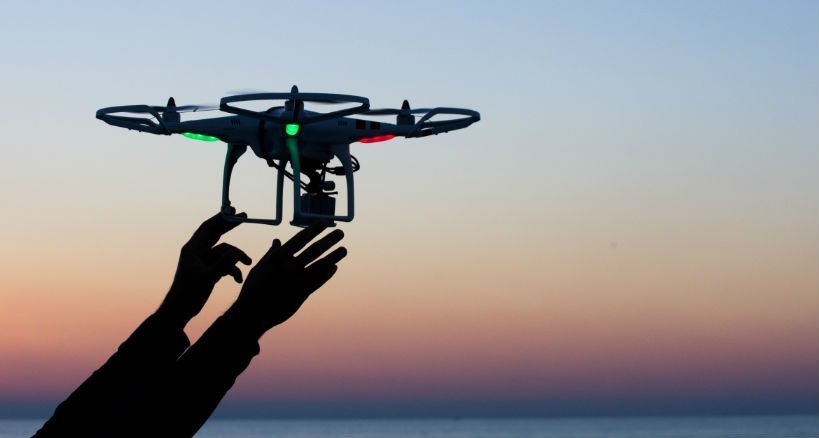 The drone became a useful electronic device for those who work in the rescue teams as it helps them to find victims of the calamity. It has got the greatest impacts in military sectors as it helps them to scan areas where they can not have a close hand legally.
In the near future, it can be prophesized that the applications of drones would increase such that it would reduce the human effort in delivering products to customers and without hampering the objects. Recently the idea has started to emerge in Singapore after China yet it is quite handy that if this is successful then major companies like Amazon and Flipkart in India would adopt this technology first.
Drone manufacturers are hereby aware of the fact that in order to get an upper hand and make their products completely useful the users should completely benefit from it.
Drones can also be forged into other sectors for geographical mapping, Agricultural Survey, Disaster Management, Flood management, Border Patrol, Anti-terror management, Maritime surveillance and intelligence gathering. Some startups emerged since 2007.
Below is the list of Industrial Drone companies in India-
Skylark drones
Skylark is an enterprise domain and works on enterprise solutions. Skylark works on the provided data set and analyses the data in a way so that it can be used for utility purposes.
It focuses on mining, infrastructure and utility industry. The company also provides cloud-based intelligent solutions on its drones.
Edall systems
Edall is the best drone manufacturer startup in Bangalore. Founded in the city itself it provides design and manufacturing services of electronic components. The company also provides training to students and professionals and is a part of National Aerospace Labs as well as Defence Research and development organization.
Various researches include drone development and unmanned aerial vehicle training program.
Connection range : 3 km
Speed: 18-36km/hr
Weight : 2.6 kgs
Johnnette Technologies
Capable of lifting 1.5 kg payload it has got his prime use for delivering products and cinematographic uses. The drones can be used for aerial mapping, surveying and 3D imaging.
It can be used for long-range missions.
Johnette Technologies provide UAVs for its users for various work applications.
Range: 10Km
Speed : 30km/h
Height/Altitude: 400m above sea level
ideaForge
Founded by IITM alumni in the year 2007, ideaForge was well known as the micro UAV industry in India. UAVs can stream live video, create high-quality research incentive images for post-processing and analysis. It is the most high profile asset for crowd management.
UAVs are self-dependent ie. they go on their own and come back on their own after completion of their mission.
They have day/night cameras to operate in darkest conditions(Night Vision).
Connection Range: self-dependent, comes back after the mission
Speed :  25-30 km/h
Weight : 2.8 kgs
Aarav Unmanned Systems
Now this one is simply different from the others. With Endurance up to 30 min, the aaravs are a bunch of designers(as they call themselves), developers and engineers from IITK, IITB, IISc and IIST. They manufacture UAVs which have a range of 3Km. UAVs also include fixed-wing sparrow for surveying and mapping, precision agriculture. It has a multirotor design for industrial inspection and precision agriculture application.
Asteria Aerospace
Asteria has been one of the prominent drone manufacturers in India. They manufacturer UAVs as well as remote-controlled drones whose proximity lies between 25-30 kms. It falls under the top branded drone manufacturers in the country. Unlike Aarav engineers in Asteria develop remote friendly unmanned automobiles and are currently developing drones to reduce human effort in packaging and delivering. Asteria manufactured UAVs have greater build quality as well as the higher pulling effect that makes their drones lift a package not more than 5 kgs.
Conclusion:
The drone manufacturers in the country are continuously developing and researching ways to develop the drones in such a way that top firms and other marketplaces could benefit from it. Our Indian drone manufacturers are ready to compete with large international firms in Singapore and China and are continuously developing facilities to counteract largest economies in the world. However, it would take time for us as Indians to make it a habit: a habit of using the drones.